---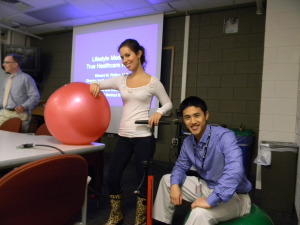 Since 2009, The Institute of Lifestyle Medicine (ILM) has sponsored the Harvard Medical School Lifestyle Medicine Interest Group (LMIG) Lunchtime Lecture Series, providing lunch and lifestyle medicine presentations by ILM staff and special guests for first- and second-year Harvard Medical School students.
The HMS LMIG is supervised by Elizabeth Frates, MD, ILM's Director of Medical School Education, and is coordinated by a group of HMS medical students. The LMIG was created to empower the next generation of physicians to tackle lifestyle-related illness in an effort to reduce morbidity and mortality from coronary artery disease, diabetes, stroke, metabolic syndrome, obesity, and a sedentary lifestyle.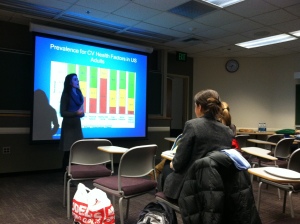 Topics for the Lunchtime Lectures Series, provided by ILM staff and guest lecturers, include:
Motivating Your Patients to Move
Patient-Doctor Physical Activity Partnership
Positive Psychology and Wellness Coaching Techniques to Get Your Patients Active
Exercise Prescription Basics
The Importance of Physician Health, for You and Your Patients
Nutrition Basics
Exercise Basics
The Vegan Diet
The Power of Prevention
Additionally, students in the group receive tools and guidance for promoting healthy lifestyle changes, such as pedometers, exercise tracking and readiness worksheets, and much more.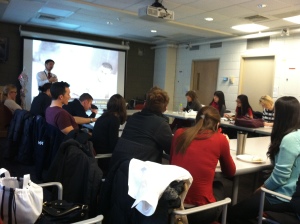 What Harvard Medical School Students Say About the Lunchtime Lectures
---
"The lectures were very helpful and practical for learning how to coach patients to be physically active."
"I enjoy the enthusiasm of the instructors and appreciate the organization of presentations and the concrete tips I walk away with."
"The lectures are very helpful and eye-opening about ways that physicians can use their social, not just medical skills, to truly impact a patient's lifestyle and health. I also liked that all the presenters emphasized a few concrete take-home points."
"I learned information I had not previously encountered in your medical school curriculum so far, like how to prescribe exercise, how to determine the patient's readiness to change his lifestyle/health using clearly defined criteria (which is incredibly useful, I found, not just for lifestyle change, but for any medical treatment, as well), and how to engage patients in a conversation (surprisingly not taught as well in PD!)"
"Learning that you could prescribe exercise in a clear, concrete, and supportive way changed my whole perspective on the role of a physician in lifestyle changes. Also, while it might seem like common sense, it was great to hear the presentations reinforce that changes often have to be gradual, have to be rewarded, and have to make the patient/person feel good about herself — we often forget this!"
"The topics are relevant and the material is easy to remember."
"I appreciated that the lectures were both about what patients should be doing and also how we as doctors can best encourage that behavior. It's one thing to say that patients should exercise for 30 minutes, but something better to say, 'Here's one way to bring up exercise and help your patients fit it into their lives.'"
Looking for more information? Want to get involved?
---
Harvard Medical School Contact
Derek Stenquist and Christina White are our student liaisons for the 2012-2013 academic year: Derek_Stenquist@hms.harvard.edu; Christiana_White@hms.harvard.edu
ILM Contacts
Elizabeth Frates, MD, Director of Medical School Education at the ILM: efrates1@partners.org